Õle Apartment Building
Architect
Project team
Madis Eek, Margit Mutso
Location
Õle 23/Härjapea 14, 10319 Tallinn
Size
1,060 m2
Status
Completed 2005
Photos
Reio Avaste
Typology
Tags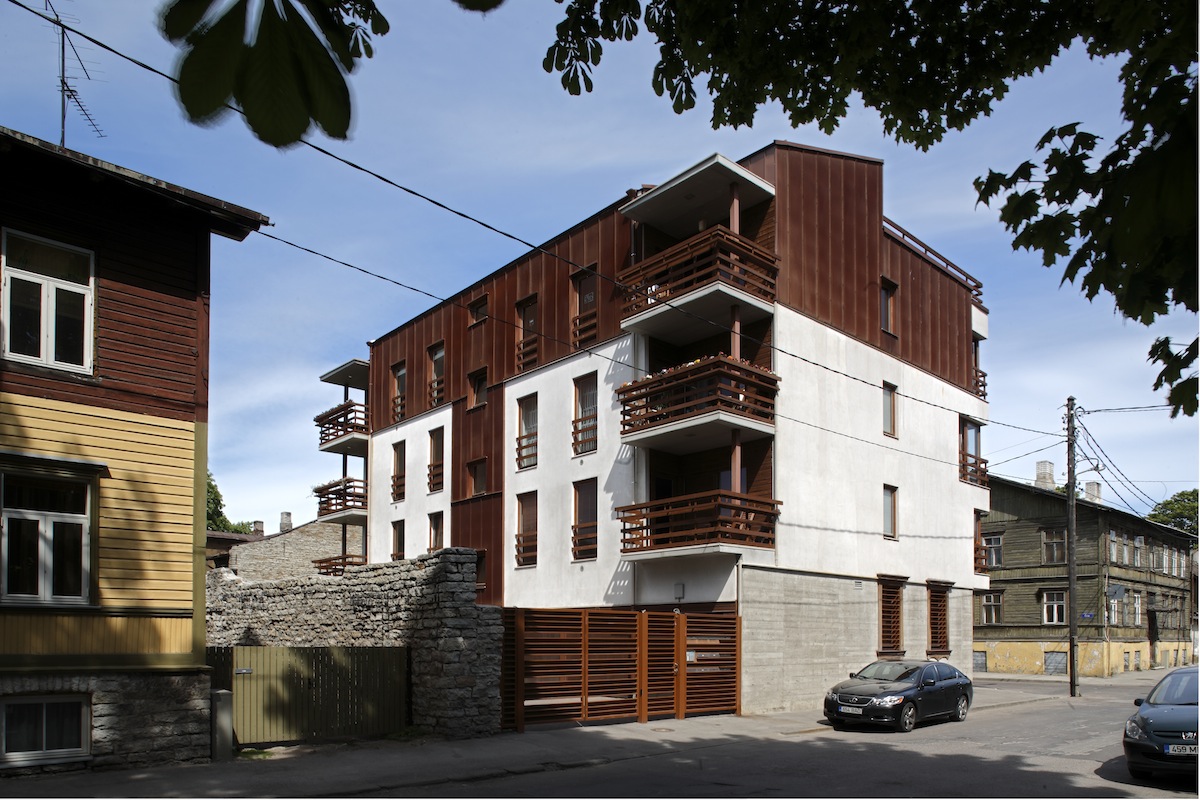 Pelgulinn is a suburb of Tallinn where century-old wooden houses can still be found. During the 1930s and later, masonry construction was added in these suburbs. Õle street is the oldest street of Pelgulinn, a suburb that stands out with its small residential houses, with large gardens ripe with fruit trees, bushes, and lilac blossoms.
There used to be a wooden house on the corner of Õle and Härjapea street, with a shop on the first floor. It burned down in the beginning of the 1990s. The new building is a modern interpretation of the traditional neighborhood house. The house covers roughly a quarter of the plot, the same ratio as the surrounding plots. The house has a central staircase, with apartments on upper floors and architecture offices on the first level. There are garages on the first level opening to the courtyard with 3 outdoor parking spaces.
The main entrance on Õle street is for the offices, whilst inhabitants enter through the gate on Härjapea street and use the back entrance. The building is four stories high as corner houses are traditionally higher than their adjacent buildings. Concrete and small blocks form the construction, finished primarily with plaster.
Ground floor concrete was cast in boarded casing; the top floor is covered with Corten-steel. The front door and window sideboards were salvaged from a wooden house, set to be destroyed. There is a relatively large backyard with lilac, apple trees, flowers and bushes and a grill house built by the inhabitants.