Black House in Nõmme
Architects
Interior Design
Kaire Kemp-Tišler, Ea Andla
Location
Valguse 17, Tallinn, Estonia
Size
410m2
Status
Completed in 2010
Client
Private
Construction
Nordecon Betoon OÜ
Photos
Tiit Veermäe, Kaido Haagen
Typology
Tags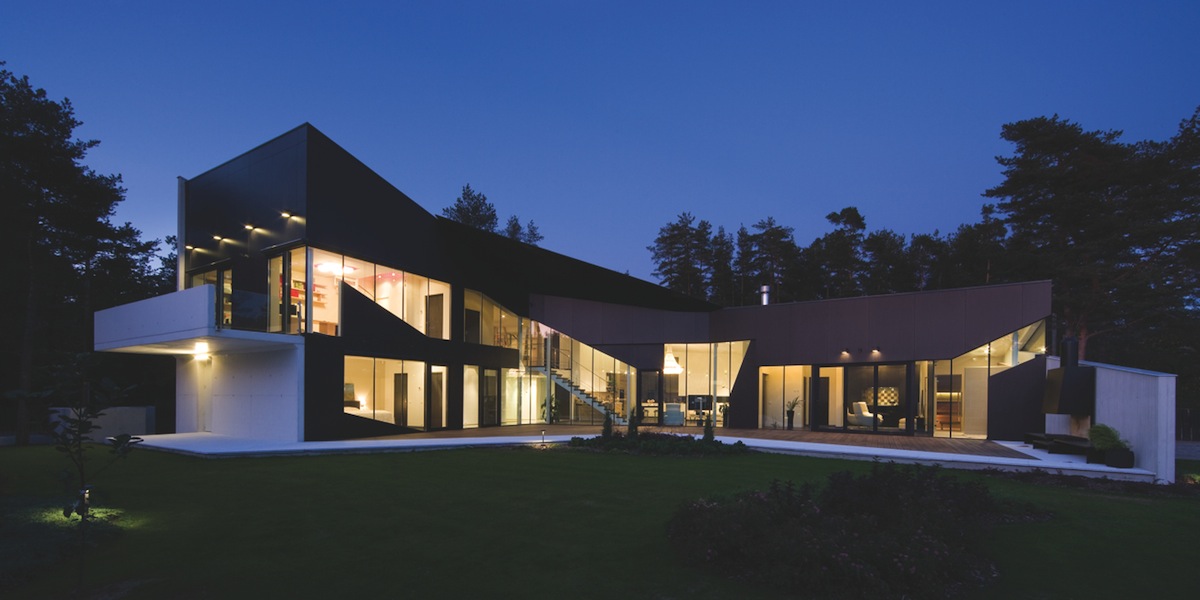 The Black House, its sister the White House situated next door, is located at the intersection of two streets thereby requiring two street-side façades. The L-shaped floor plan that wraps around the terrace in the garden is the logical result of the situation. The street-side façades are made of geometrically severe bright white concrete. The Yard-side façade is of the exact opposite character to the former with its black tiles and black louvres. The dialogue between white and black also continues inside the house. The entirety of the first floor is covered with black oak parquet flooring, while the furniture and walls are crisp white. The materials (concrete with imprinted traces of the formwork, glass, wood, white cobblestone paving near the entrance) and the attitude of form is similar to the White House but the building as a whole feels more compact and carefully considered.
Structure wise, it is an extremely complicated house. This is demonstrated for all to see by the black metal fence that required extremely accurate execution from the builder. The dedication put into this project by the client, the architect and the builder is evident all over the house.
While life in the White House is conducted on a single level, there are three floors in the Black House. The division of interior space is quite conventional, each room fulfilling a definite function i.e. the living room, bedrooms, kitchen etc.The parent's bedroom, located in the street-side "corner tower", is made private by a skilfully positioned strip window. The top floor lofts house children's bedrooms.
Both the White and Black Houses are Smart homes.The house is heated and cooled by a geothermal heat pump, which is located in the basement along with other utility systems. The architect aimed to prove that modern glass houses are also appropriate for Estonia with its cold climate.