Body Building
Architects
Location
Ahtri 2, Tallinn, Estonia
Status
Completed in2015. Relocated to the territory of the Port of Tallinn in 2017

Builders
TAB 2015 volunteers and architecture students of Estonian Academy of Art: Mihkel Masso, Jüri Nigulas, Ragnar Kruusimäe, Mihkel Räni Raev, Mihkel Aan, Raul Rohtjärv, Paul Klõseiko, Endrik Arumägi, Rosanna Lints, Madli Kaljuste

Client
Tallinn Architecture Biennale TAB 2015

Supported by
Narvo – Nordic Timber, Würth, Assy, Mountain Loghome, TAB2015, Museum of Estonian Architecture, Cultural Endowment of Estonia

Photos
Tõnu Tunnel
Typology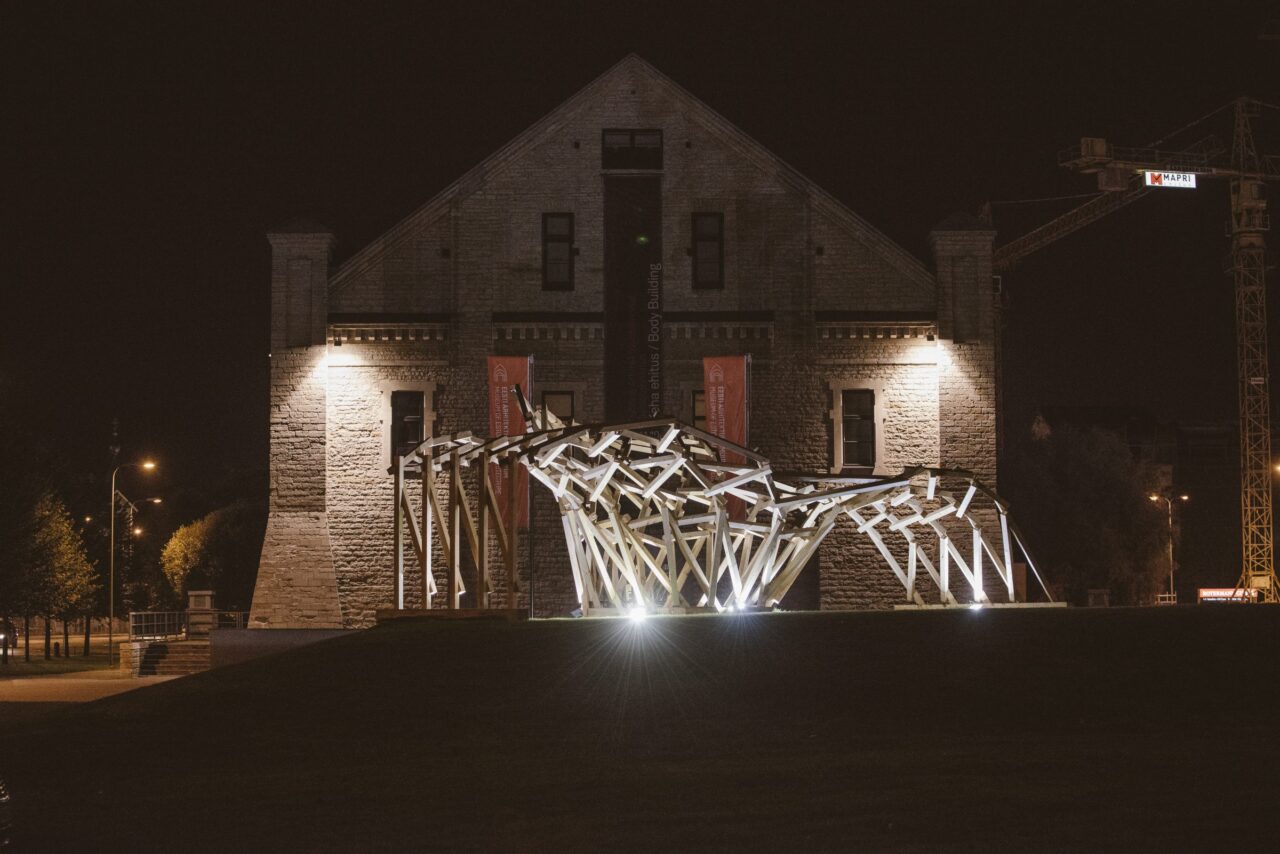 The installation "Body Building" was a continuation of the exhibition of the same name at the Museum of Estonian Architecture in the city space, embodying the dialogue between the physical and computational worlds in architecture and construction. The pavilion was erected on the square in front of the museum on the axis of the main venues of Tallinn Architecture Biennale and functioned as a conceptual beacon and a guide.
The freeform structure was a contemporary take on timber post and beam construction, manufactured on a fully automatic timber house production line where traditional log houses are produced on a daily basis. The computer-assisted 5-axes milling machines allow the production of customized solutions at the speed of traditional industrial manufacturing while the algorithmic design methods provide flexibility in planning.
The project aimed at bringing algorithmic design into industrial production and igniting a discussion on the future of wooden architecture between the local wood industry, engineers and architects.
The main exhibition of Tallinn Architecture Biennale TAB 2015 was called "Body Building" it looked at hybrid forms of construction where cutting-edge technology and science met the self-driven variability of material systems and where the degrees of freedom and control define an outcome of multiplicity within tolerance, trying to find a balance between the unruly and the predictable – body and building. The exhibition explored new territories of building aesthetics and spatial qualities of self-driven intelligent systems, where architecture and science have entered into a dialogue between the computational and the physical.