City Plaza
Architect
Location
Tartu road 2, 10145 Tallinn, Estonia
Size
13573,6 m2
Status
Completed in 2006
Photos
Martin Siplane, Tiit Veeremäe
Typology
Commercial Projects, Public Projects
Tags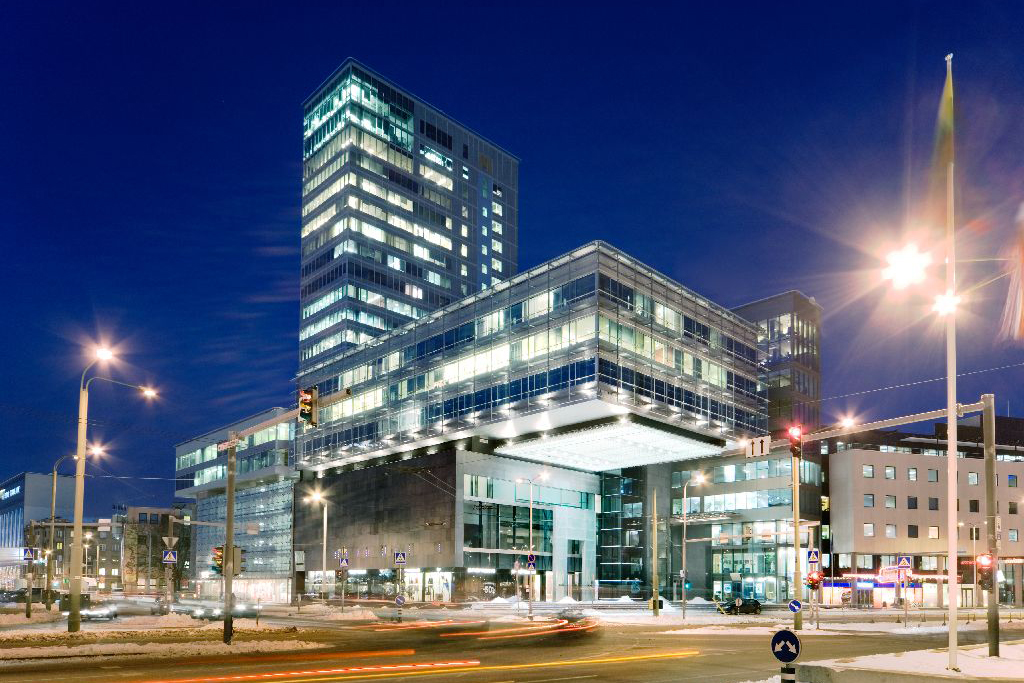 The complex comprises two separate office buildings for two different clients. However, as the buildings are situated right next to each other plus were designed and constructed simultaneously, they are commonly perceived as a single ensemble. This complex with a total gross area of 31,000m2 includes a gym, multiple restaurants, parking and a covered public space for social events.
The entire complex is defined by two office slabs: one of them vertical, the other horizontal. The latter one cantilevers over the central street of the Tallinn's business district – Rävala Avenue – to make for the most unusual appearance at the otherwise conventional streetscape. The space under the cantilevered volume faces south and provides a perfect meeting place for people to engage in various urban activities.
The program for both buildings is very diverse, with all the connections tailored to site specific conditions. The vertical office slab is elevated from the ground to provide for panoramic views of Tallinn's Old Town and the harbor district. The floors between the public ground floor and the elevated slab accommodate 4 floors of parking and a restaurant.
On the other side, the cubic dark volume underneath the horizontal office slab is shared by a flagship store, a fitness-club with a swimming pool, and the offices of the Estonian branch of the European Council – the building is therefore named the European Union House. The cantilevering part of the building is clad with a double-skin façade which is covered with a thematic typographic pattern.