Digital Blocks
Architects
Gilles Retsin Architecture
Gilles Retsin
Ivo Tedbury
Oscar Walheim
Location
Ahtri 2, Tallinn, Estonia
Status
Completed in 2017
Engineering
Manja van de Worp, YIP Structural Engineering London 
Construction Team
Isaie Bloch, Ward Delbeke, Gilles Retsin, Kevin Saey, Ivo Tedbury, Oscar Walheim

Client
Tallinn Architecture Biennale 2017
TAB Volunteers
Mari Poom, Ra Puhkan, Mia Peil, Elsbeth Aarsalu, Katariina Mustasaar, Henri Ingelman 
Academic Partners
The Bartlett School of Architecture, UCL Design Computation Lab and Estonian Academy of Arts 
Photos
Studio Naaro
Typology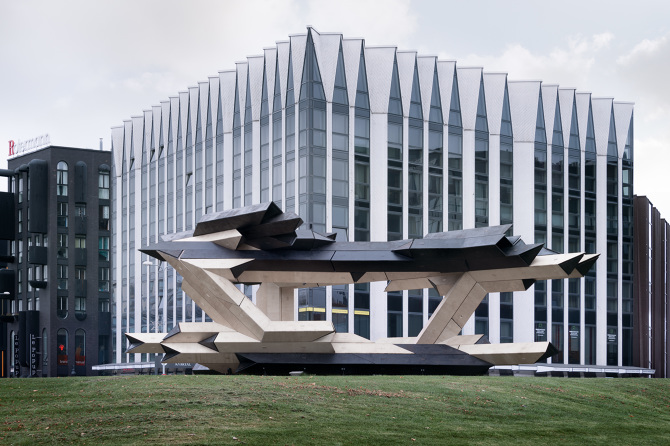 Digital Blocks was the winning proposal of Tallinn Architecture Biennale TAB 2017 Installation Competition that took place from October 2016 to February 2017. The international two-stage open call intended to challenge participants to develop creative designs for a temporary outdoor installation, making innovative use of the fabrication capacities with the Estonian wooden house manufacturers. The installation was to be driven by TAB 2017 main topic of biotechnology in architecture and urban design and the curators were looking for visionary models using principles of biological self-organization, computational material logic and the embodied algorithms of the future of the bio-city for the TAB Installation Programme.
The winning proposal was critical of the approach of the previous decade that had seen an explosion of parametric pavilion structures, built by architecture schools, research institutes and enthusiasts. These so-called "parametric pavilions" are remarkably similar: they are almost always based on a surface or shell, that is then split into thousands of different pieces and then painstakingly re-assembled into the desired form.
The winning proposal instead proposes to create a series of discrete building blocks, that similar to LEGO, can be assembled into a variety of structures. These building blocks are based on cheap, off-standard sheets of 18mm exterior plywood which were locally available. Each sheet is cut by a CNC-machine and can then be assembled into a building block capable of bearing structural loads. The blocks exist as a family of straight, 45 degrees, 90 degrees and 135 degrees elements and are designed to perform "just good enough" in any structural condition. The blocks are protected from the exterior climate with black bitumen tar or varnish.
Over 380 m2 of plywood was cut and assembled into 80 building blocks. The entire structure was fabricated locally in Tallinn, in collaboration with local manufacturers.