EMÜ Sports Hall
Architect
Project team
Karli Luik, Maarja Kask, Ralf Lõoke
Interior design
Katrin Kaevats, Jaan Port
Competition & awards
Open, 2007, 1st Prize
Location
F. R. Kreutzwaldi 3, 51014 Tartu
Size
4,500 m2
Status
Completed 2009
Client
Estonian University of Life Sciences
Photos
Karli Luik, Reio Avaste
Typology
Science & Education, Sports, Awarded, Landscape and Urban Planning, Public, Wood
Tags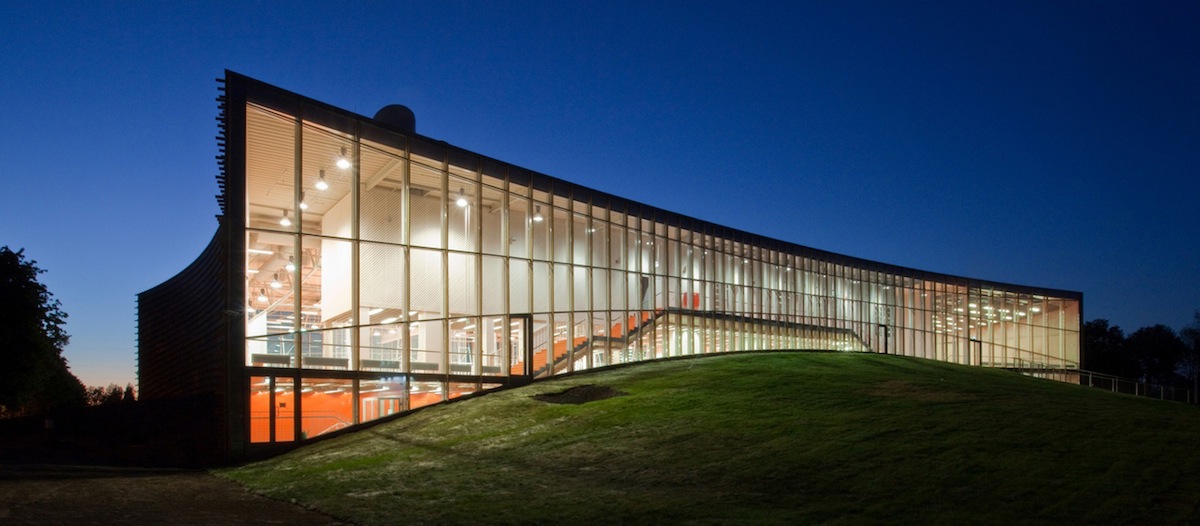 The chosen plot for the sports hall was an empty, flat field right at the roadside at the entrance to Tartu, so in addition to functionality and ability to integrate and organize the surrounding campus area, the architectural competition, in a way, expected a greater degree of representation than the building type would normally imply. At the same time, the spatial programme of a sports hall largely prescribes the possibilities of designing the main volume.
The architects decided to stretch all corners of the cubic volume, and to integrate the building organically with the landscape. Elevated ground forms a "cushion" for the slightly entrenched building, thus optically minimizing its volume, and continues in undulating forms, encompassing outdoor sports grounds and bicycle paths, towards a sloping valley further away.
The stretched-out corners of the building create concave lines both in plan and elevation, gently relating to landscape and softening the size of the building. At the same time the building retains sharpness, enabling constantly varying, expressive views from various angles. This is due to optical effects of the form, clear-cut lines and finishing materials.
In the interior, the same attitude continues – a limited repertoire of considered details and takes. Moving around, the overall feel is light and airy, easy to navigate. The stretched-out plan creates unconventional interior spaces. The choice of colors and materials is strictly limited to smooth exposed concrete and painted carroty surfaces with details in matte and shiny black. In a delicate way, one is reminded that a sports hall is a bodily space – e.g., the concave outline of the building creates galleries narrowing in the middle, and with glazed openings in the floor the resulting space sharpens one's bodily experience of space.