Freedom Square
Architect
Project team
Andres Alver, Tarmo Laht, Sven Koppel, Toomas Tammis, Indrek Rünkla; Veljo Kaasik, Tiit Trummal; Sweco Project
Competition & awards
Open, 1998, 1st Prize
Location
Vabaduse väljak, 10142 Tallinn
Size
8,100 m²
Status
1st stage completed, 2009
Client
Tallinn City Government
Photos
Kaido Haagen, Alver Architects
Typology
Historic, Landscape and Urban Planning, Public
Tags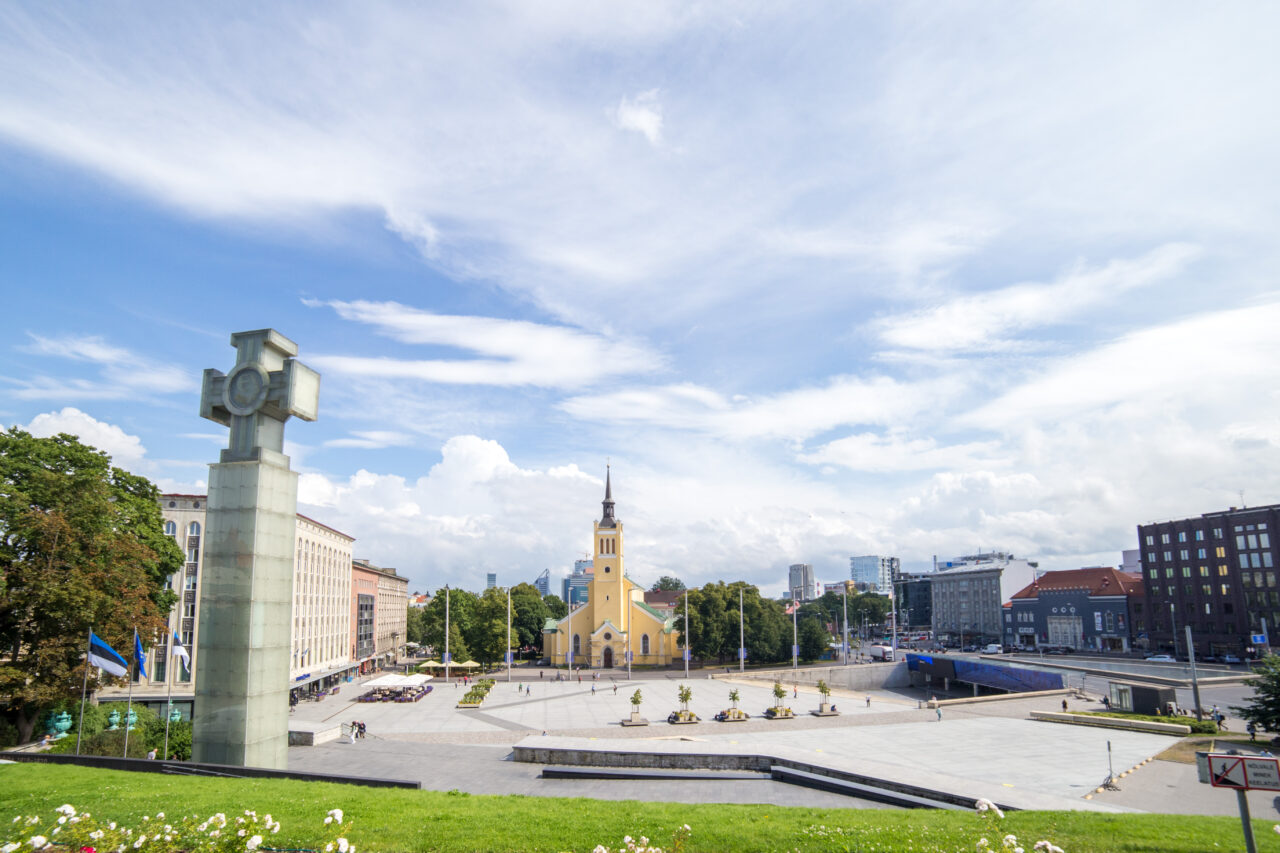 Freedom Square is the main representative plaza in Tallinn and is the site of activities ranging from military parades to street art and skaters ́ events. The first phase of the redevelopment was completed in 2009 with re­exposed bastion walls, inclined planes, adjustable greenery, lighting and other urban design elements. The overall impression is compromised by a liberty monument added separately, which expresses unabashed political will and national anguish over the issues of representing memory.
The square is a three-dimensional landscape instead of being a flat vast plot of land. The square consists of a flat ground level polygonal area covering a subterranean parking garage for 200 vehicles and of a vast stair facing south leading to an underpass. The western branch of the square stretches along the bastions to connect the square to the residential areas. The square also includes a roofed bus-stop on its southern edge, which also cuts the noise and constant movement of the street from the tranquility of the square.
To highlight its legacy, the project included cleaning and restoring the geometry of the original bastion structure, while erasing some 19th century interventions. In addition to the main architectonic moves, the square gets a lot of its identity from detailing and furniture. The square is clad with 1200 x 3000 mm granite plates and accentuated by unique over-sized lighting poles. The necessary barriers are made of prefabricated concrete and stand on stainless steel legs, while the furniture is mounted on wheels and integrates greenery as well as seating. The southern stair has double pace for both stepping and for sitting while the underpass is held up by columns embellished with mushroom-shaped capitals.