KUMU Art Museum
Architect
Location
A. Weizenbergi 34/Valge 1, Tallinn, Estonia
Size
20 926 m2
Status
Completed in 2005
Photos
Kert Saarma
Typology
Tags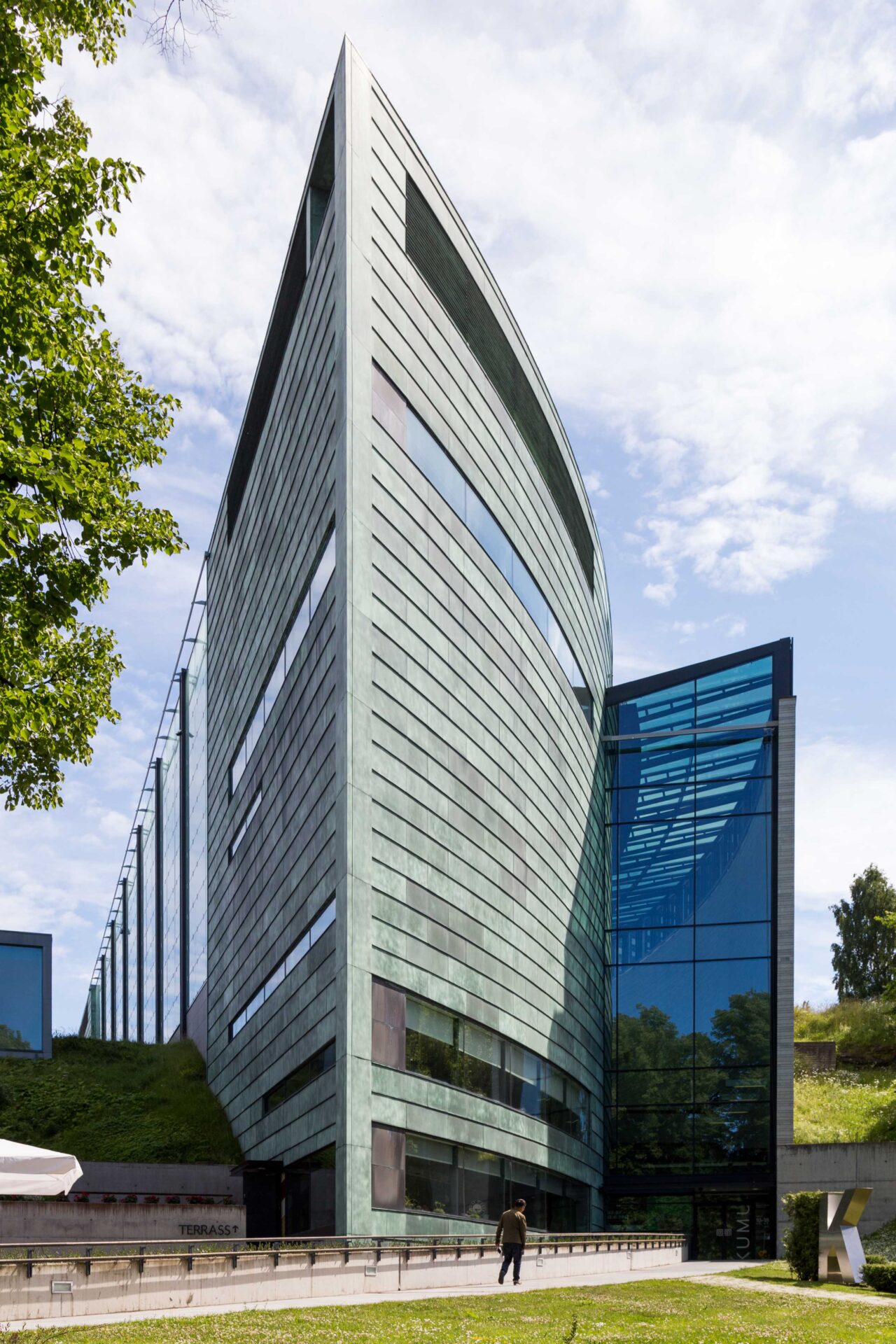 After an architectural competition in 1993 – the biggest in Estonia at the time– and a prolonged building process, this art museum, which was the first in Estonia intentionally built for such a purpose, opened its doors in 2004. The competition was won by a then young Finnish architect Pekka Vapaavuori, for whom this was his first major commission.
The main idea was not to build a structure dominating the historical park, but rather for it to blend into the limestone cliff, with a closed inner courtyard as the main focus and curving exhibition halls in a flanking wing. The round shape came about as if by itself, as a result of the ramp solution that connects the different levels of the museum. A curved wall encloses the courtyard and an outdoor sculpture exhibition. The ramp divides the museum building into two different parts. Outside the curve are, for instance, the administrative personnel`s rooms and the conservation facilities, and inside are the lobby and exhibition halls. The architect chose natural materials with local traditions, such as dolomite, wood and copper.
Like many contemporary museums, KUMU is designed to be multifunctional. In addition to exhibition halls, it has a 246-seat auditorium, lecture and meeting rooms, spaces for concerts, events, conferences and performances. The museum also contains an education centre with study rooms and all the facilities required to educate young people about contemporary art.
While there has been some criticism on the museum's peripheral location outside the city centre and its introverted character, denying the controversies of where bourgeois Kadriorg and blue-collar Lasnamäe meet, the museum has nevertheless begun to work well in ensemble with the other museum branches in Kadriorg Palace and the vicinity.