Mäekalda Private Residence
Architect
Architectural Design Office PLUSS
Project team
Indrek Allmann
Interior Design
Indrek Allmann, Vaikla Stuudio
Engineering
Andres Läänesaar
Location
Tallinn, Estonia
Size
399,7 m2
Status
Completed 2014
Photos
Kert Saarma
Typology
Tags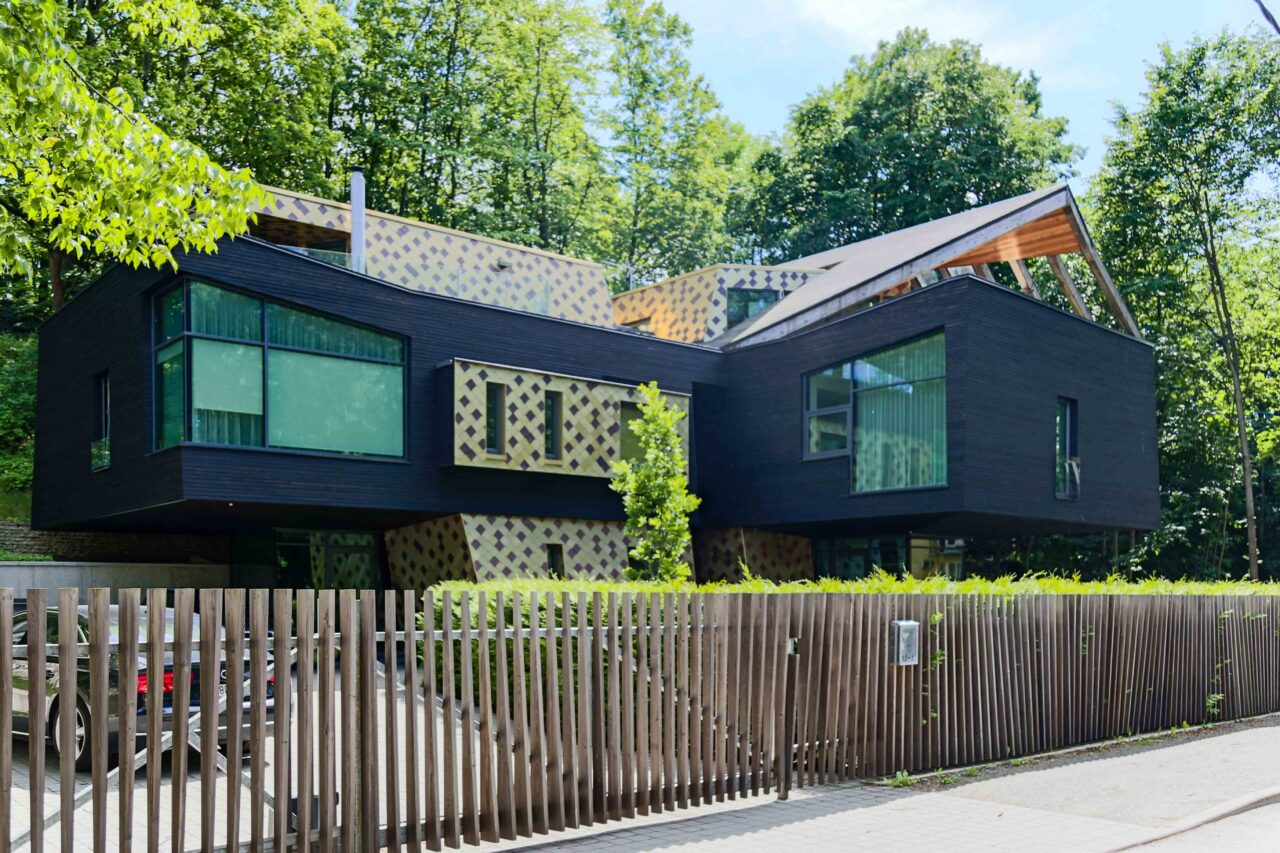 This duplex provokes and challenges. At first it can startle but on closer inspection it reveals itself to be a well-functioning dwelling with a strong concept. It's demanding urban and natural environment set boundaries that require inventive solutions to overcome them. The new semi-detached house added to the row of historical wooden lace villas in Mäekalda Street tries to compete with them in vanity or simply to surprise the passers-by.
With its gable roof, the villa "raised into the air" merges with the row of historical villas, but the exclusive and extraordinary facade makes it impossible not to notice the building. Kadriorg has always been always the cradle of the prosperous class and wealthy architecture.
Approximately half of the site is taken up by a steep incline which demanded meticulous planning in positioning of the volumes that make up the building. The two parts of the duplex are positioned perpendicularly at the foot of the slope. To maximize the size of the front yard the main volumes are raised and cantilevered. The units themselves are separated by the passageway to the technical rooms behind the building.
The main volumes are defined by their slanted walls, infrequent form and rarely used materials. Rare in Estonian context. For the larch siding the ancient Japanese technique of Shou-sugi-ban was used (charring wood to preserve it for use as exterior siding). The ensuing charcoal barrier preserves the wood and makes it fire, rot and insect resistant. For the metal siding regular copper and a special alloy of copper and aluminum was used.