Metro Plaza
Architect
Location
Viru väljak 2, Tallinn, Estonia
Recognition
Tallinn City Government Prize for architectural and design lighting in the city 2009
Size
12000m2
Status
Completed in 2009
Client
Focus Kinnisvara OÜ
Photos
Kaido Haagen, Gen Vagula, Andrus Kõresaar
Typology
Commercial Projects, Historical
Tags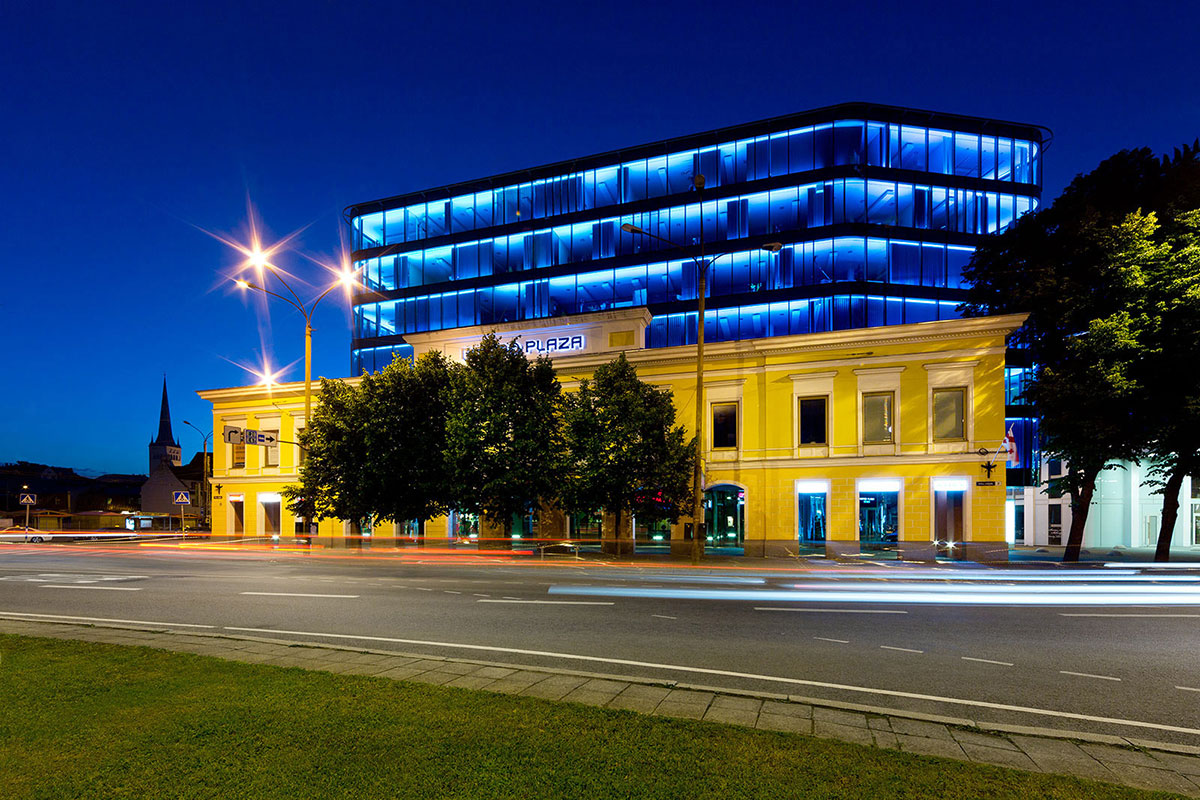 Viru roundabout is the centre point of Tallinn. It is the spot from which distances to other cities in Estonia and abroad are measured. The roundabout, through which thousands of cars and pedestrians pass daily, is situated between Tallinn's mediaeval Old Town, the historic Rotermann industrial quarter and the modern city centre. Viru roundabout is the focal point of Tallinn city centre and it is difficult to imagine a more intriguing location for an office building.
Next to the roundabout, the office building called Metro Plaza replaced the historic Rotermann department store. It was designed by KOKO architects and completed in 2009. The classicist facade, which dates back to the mid-19th century, was under heritage protection, and  had to be therefore preserved and integrated within the new construction as smoothly as possible. After intense debates between various stakeholders, a decision was made to use a design where the historic facade and new office building are succinctly separate.
Metro Plaza stands behind the two-storey classicist facade, and is a modern and rational office building where commercial and service spaces are located on the lower floors and office spaces with ample daylight on the upper floors. The entire new section of Metro Plaza is saved from the elements by a glass facade featuring a unique technical solution, where its rounded corners, tinted glass and asymmetry soften the impact of the facade in the surrounding city space. A colourful installation using modern lights has been integrated into the glass facade, which enlivens the city during the night hours and makes it possible to organise light shows during the autumn and winter seasons.
Critics have accused Metro Plaza of facadism and feel that the historic Rotermann's department store and the new office building do not form an organic whole. In some sense, from an urban construction perspective, they might be right; nevertheless, it is indisputable that Metro Plaza is a building with a uniquely strong character.