Pärnu Kalevi Stadium
Architect
Open competition
2013, 1st prize
Location
Ranna Boulevard 2, Pärnu, Estonia
Size
2150m2
Status
Completed in 2016
Client
Pärnu Municipality
Photos
Catherine Kõrtsmik, KAMP Architects
Typology
Tags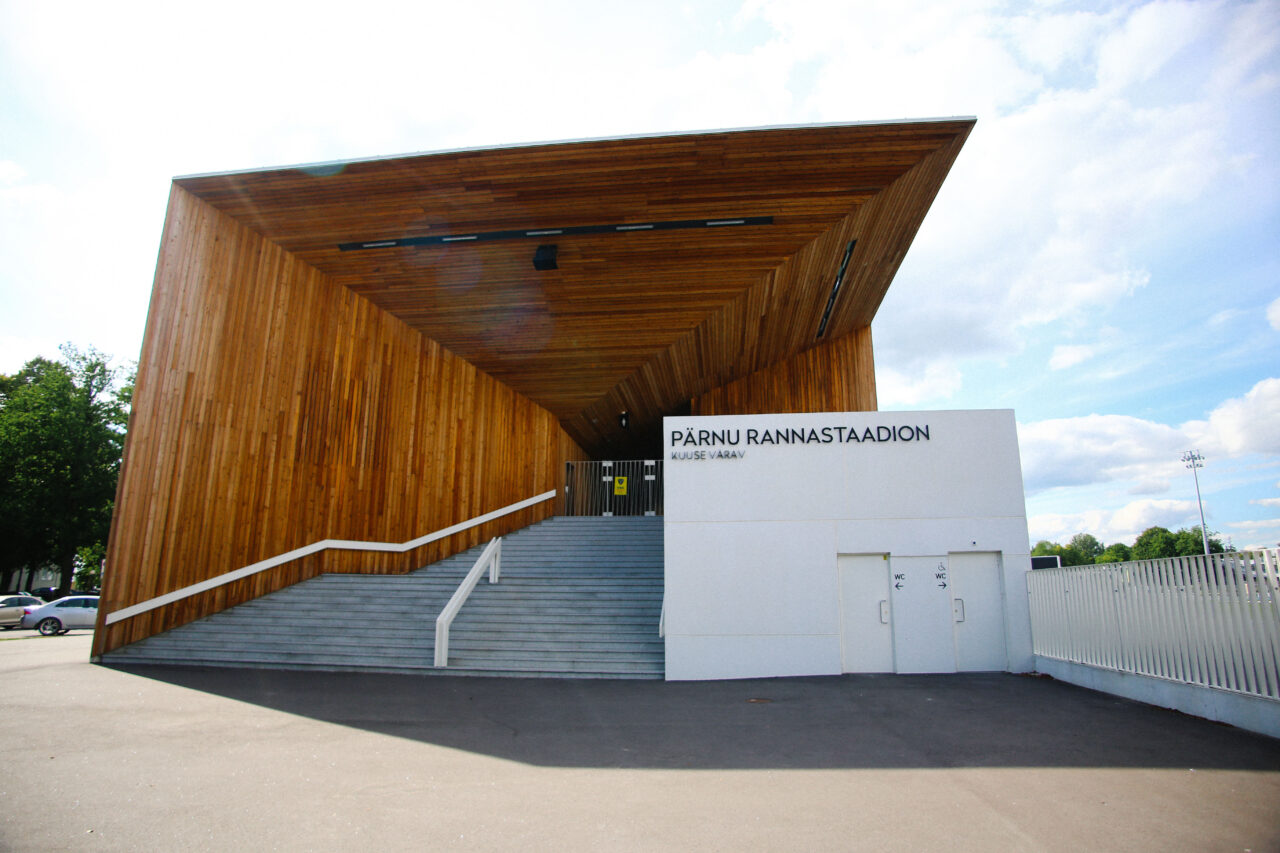 Since 1923, there have been various sports facilities at this location in Pärnu. A highly modern-looking grandstand designed by architect O. Siinmaa and engineer N. Leyden was opened there in 1933, which became one of the masterpieces of Estonian wood functionalism. In 1981 this was replaced by a design by A. Pähn. That in turn was razed in 2015 and the new grandstand by KAMP Architects was erected.
The new Pärnu Seaside Stadium was designed according to the architectural competition (2013) winning entry. The proportions of the slender plan (length to width ratio is almost 1:10) is passed on to the entire form of the building, which is airy, sharp and brisk. The white concrete facades echo the delicate facades of the Beach Hotel but do not compete with them. The wooden facade with its powerful yet delicate wooden cantilever refers to Siinmaa's wooden stadium building of former times.
All 1500 seats of the stand are located under a cantilevered awning, in some places with an unsupported span of 28 m. The stand that is larger than the earlier buildings of the stadium use wood as a finishing material, giving the awning and the main facade a softer look. Pärnu beach stadium meets the 2nd category requirements of IAAF and UEFA, which makes it possible to hold high-level athletics and football events.
The functional scheme of the building is simple. The spectators' paths never cross the athletes moving around in the same building. On the Ground floor, there are dressing rooms and showers for the athletes, rooms for coaches and auxiliary rooms, including a tartan-covered running track. Technical equipment and storage space with a commercial area have been planned along the street side.