Rotermann Carpenter's Workshop
Architect
Location
Roseni 7, Tallinn, Estonia
Size
2700 m2
Status
Completed in 2009
Client
Rotermann City
Photos
Kaido Haagen
Andrus Kõresaar
Awards
1st Prize TAB 2009
2nd prize TAB 2011
Typology
Commercial Projects, Historical
Tags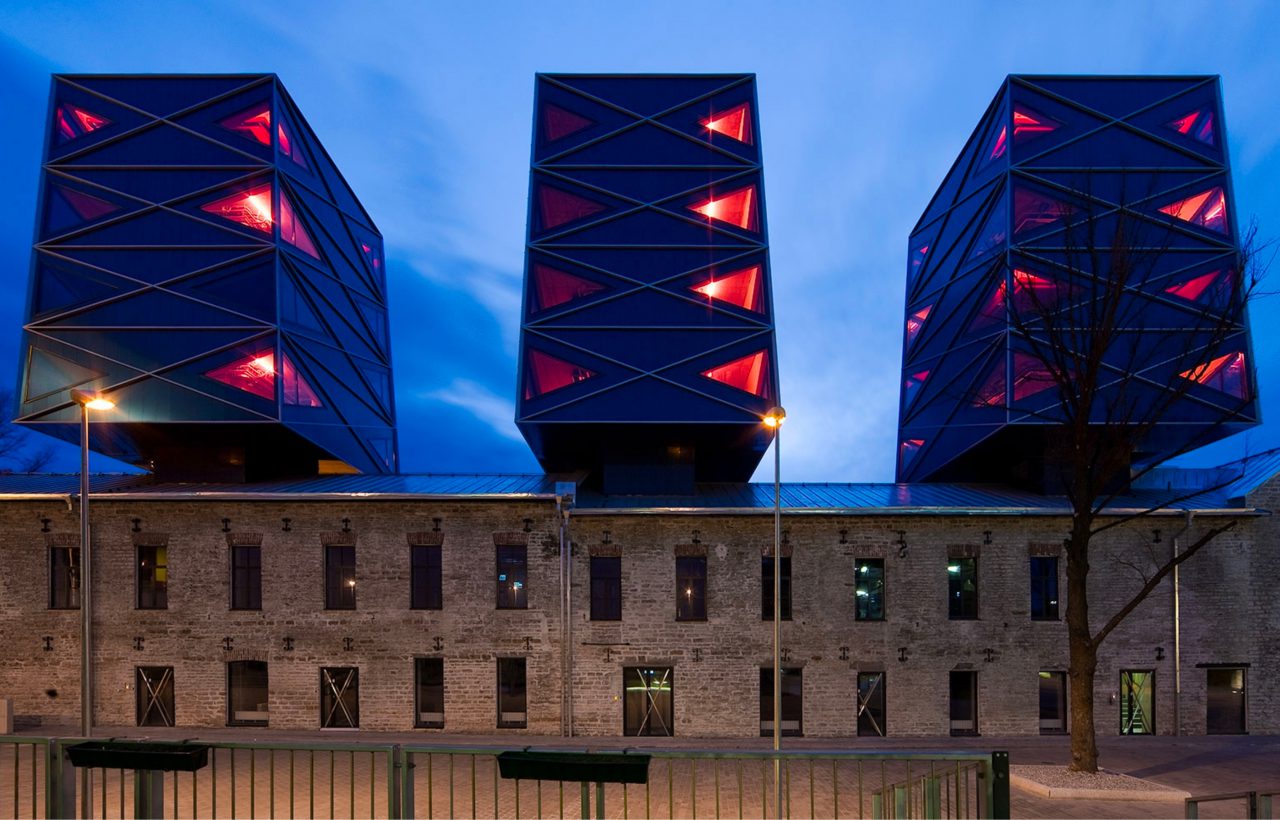 Rotermann quarter is a significant site for new Estonian architecture and urban design. The treasured 19th century industrial architecture is skillfully fused with new high-quality designs. The compact pedestrian quarter hosts shops, restaurants, offices, accommodation facilities and apartments.
Reconstruction of the historic carpentry workshop is one of the boldest architectural undertakings in the modernised Rotermann quarter. The building faces the central square of the quarter and is one of its most spectacular sights as three techno-futurist towers make a reverence to 20th century industrial architecture and are visible from beyond the quarter.
The two lower floors of the old carpenter's workshop, the limestone volume of the building, house commercial and service facilities. The three new vertical volumes accommodate compact office spaces. The towers were designed in order to avoid harming the historic walls of the building. Reinforced concrete cores were placed on localised piles to ensure autonomous support of the three volumes. Console ceilings, angular facade elements and windows are all attached to the core and lit up during the night, conveying a sense of modern confidently vigorous architecture.
Reconstruction of the Rotermann carpenter's workshop, which is under national heritage protection, is a great example of architectural design during the economic boom of the noughties. In that period clients had the courage and means to commission extravagant architecture. On the other hand, the reconstructed carpenter's workshop also reflects a desire of the institutions protecting heritage sites to update their approach to the interplay of historic and contemporary architecture.
The project was shortlisted for the EU Contemporary Architecture Prize – the Mies van der Rohe Award.