Steampunk
Architects
SoomeenHahm Design
Igor Pantic
Fologram
Location
Ahtri 2, Tallinn, Estonia
Project team
Soomeen Hahm, Igor Pantic, Gwyllim Jahn, Cam Newnham, Nick van den Berg, Hanjun Kim, Kiheung Kwon, Eri Sumitomo, Katerina Konstantinidou, Jakub Klaska
Engineering
Format Engineers
Status
Completed in 2019
Client
Tallinn Architecture Biennale TAB 2019
Photos
Tõnu Tunnel
Typology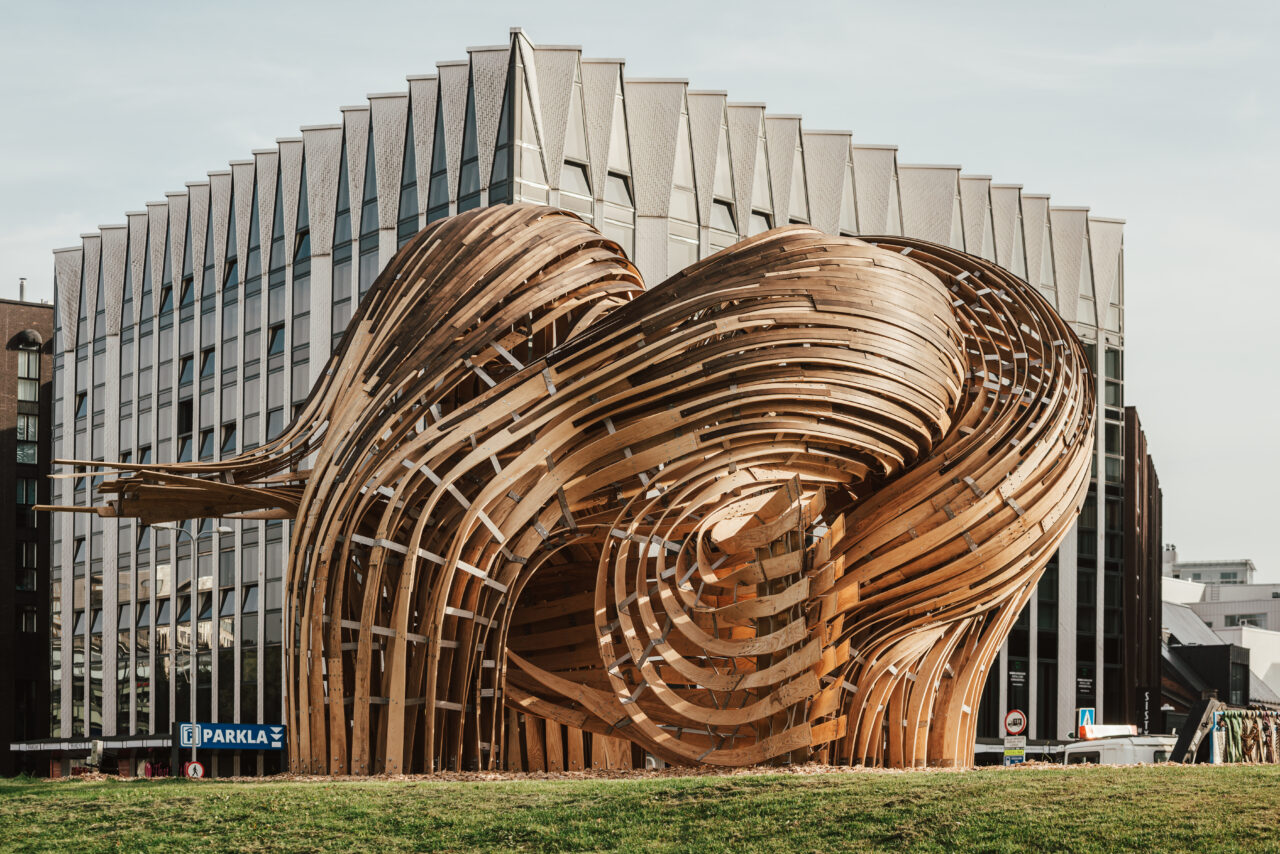 Steampunk was the winning proposal of the Tallinn Architecture Biennale TAB 2019 Installation Competition that took place from October 2018 to February 2019. The open two-staged competition raised a wide international interest with 137 portfolios being submitted for the first round.
The competition challenged participants to develop creative designs for a temporary outdoor installation, making innovative use of the fabrication capacities with the Estonian wooden house manufacturers. The aim was to promote synergy between emerging designers and industry. The brief asked participants to design and build a modern day wooden "primitive hut", an installation that researches fundamental, primordial notions of construction, tectonics and dwelling.
The site for the installation was the area in front of the Museum of Estonian Architecture in Tallinn city center. As usual the installation was displayed until the next biennale. In 2022 the installation was relocated to the Krulli Quarter.
Steampunk is a proposal for a pavilion made of steam-bent timber elements, using analogue tools augmented with the precision of mixed reality environments. It explores an adaptive design and fabrication system that is resilient to wide tolerances in material behavior and fabrication accuracy, occupying a fuzzy in-between that is neither purely ad-hoc nor purely automated. Steampunk explores a path to rethink applications and traditions of craft in pursuit of their evolution.