Suure-Jaani Health Centre
Architect
Project team
Alvin Järving, Mari Rass, Ott Alver, Kaidi Põder, Katrin Vilberg, Gert Guriev, Liina-Liis Pihu, Märten Peterson
Interior design
Kuup Disain OÜ (Riin Kärema, Kerli Lepp, Mari Põld)
Engineering
Novarc Group AS
Competition & awards
Open, 2015, 1st Prize
Location
Pärnu 4, Suure-Jaani 71502
Size
3,120 m2
Status
Completed, 2019
Client
North Sakala municipality
Photos
Tõnu Tunnel, Kristian Lust, Terje Ugandi
Typology
Awarded Projects, Hospitality, Public Projects
Tags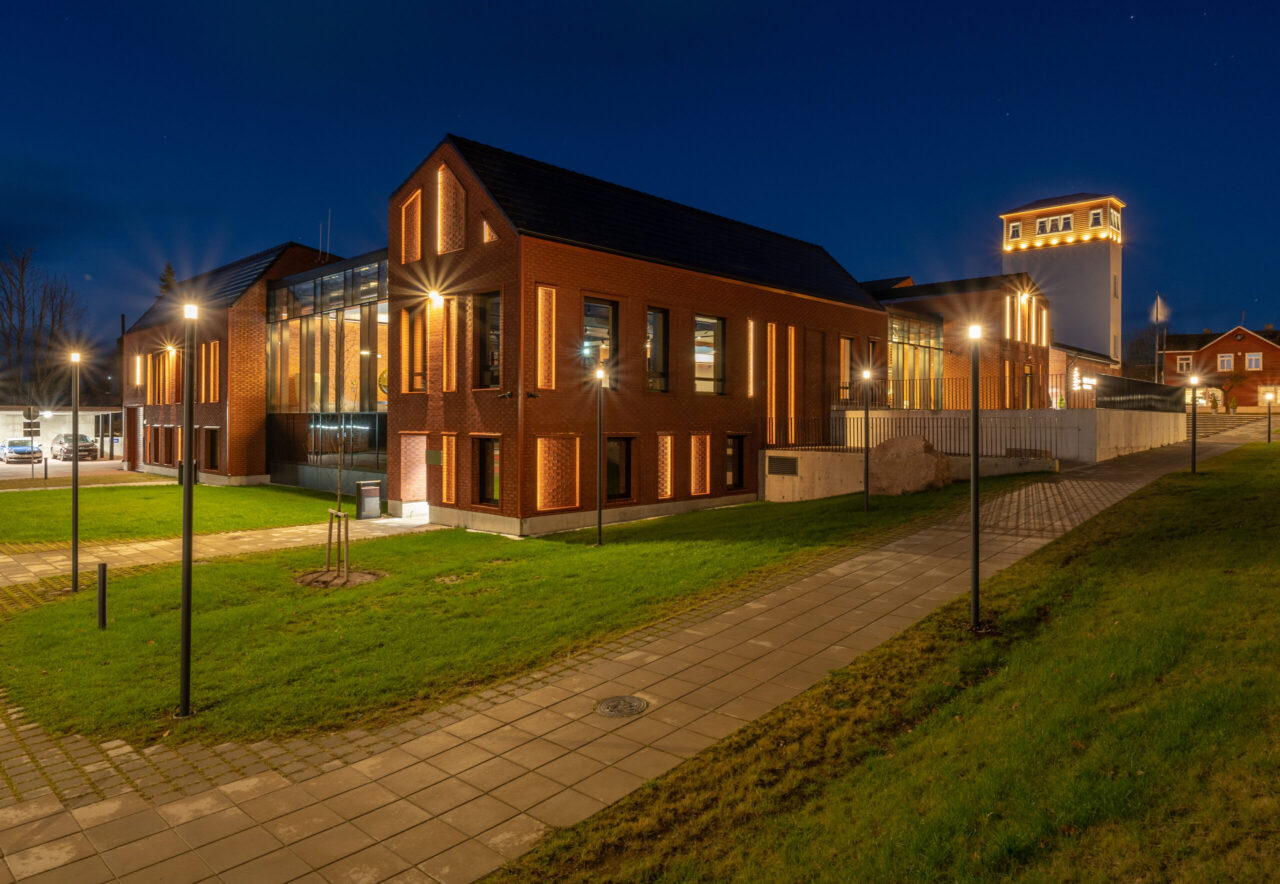 Suure-Jaani is a small town in central Estonia, some 143 km South-East from Tallinn. It is a typical parish centre with mostly single-family homes and some larger wooden buildings at the center of the settlement. The new health centre is annexed to the historic fire depot, and it forms an interesting ensemble with the parish church and the impounded lake. Plans are to shape this area into the new centre of the town.
The health centre houses a water and a sauna center (five pools, three saunas) and a first contact medical centre (family physicians, nurses, medical specialists, physiotherapists, and a pharmacy). The building also has rooms for the local ambulance and for the police. The complex belongs to the local municipality and was conceived with the aim of improving the accessibility of the healthcare and leisure services. The building is designed by architectural bureau Arhitekt Must in tandem with Kuup Design, who are the authors of the award-winning interior design of the center. Also, the architectural side has been acknowledged – it has been nominated for the EU Mies van der Rohe Award and the Estonian architectural awards.
The building has been designed as smaller separate units so the quite massive program would visually fit into the small-town environment. Although built with brick the center mimics the architectural language of its wooden neighbors – their form and volume. The building is sufficiently compact while also remaining spacious and cozy for the visitors. In-between the smaller volumes is the heart of the new complex, the water center. In designing it the architects and designers derived their ideas from the fifth season of Soomaa, its bog landscapes, its nature and of course from the wellbeing associated with healthiness. The interiors are dominated by earthly tones, main materials are the same red brick accompanied by natural wood. Use of brick both for the exterior and in the interior upholds the integrity of the design. An aspect that lends additional character to the walls is the use of different brickwork in some places. The entire water center part of the complex has a stretch ceiling with a foggy or cloudy appearance. The Suure-Jaani health centre is a well thought out whole with a defined and logical character.