Tallinn TV Tower
Architect
Interior design
Raili Paling, Liis Lindvere
Competition & awards
Invited, 2009, 1st Prize
Location
Kloostrimetsa tee 58a, 11913 Tallinn
Size
10,000 m2
Status
Completed 2012
Client
Tallinn TV Tower Foundation
Photos
Kaido Haagen, Arne Maasik, Kalle Veesaar, Ken Juks
Typology
Culture, Industry & Infrastructure, Refurbishment, Historic, Landscape and Urban Planning, Public
Tags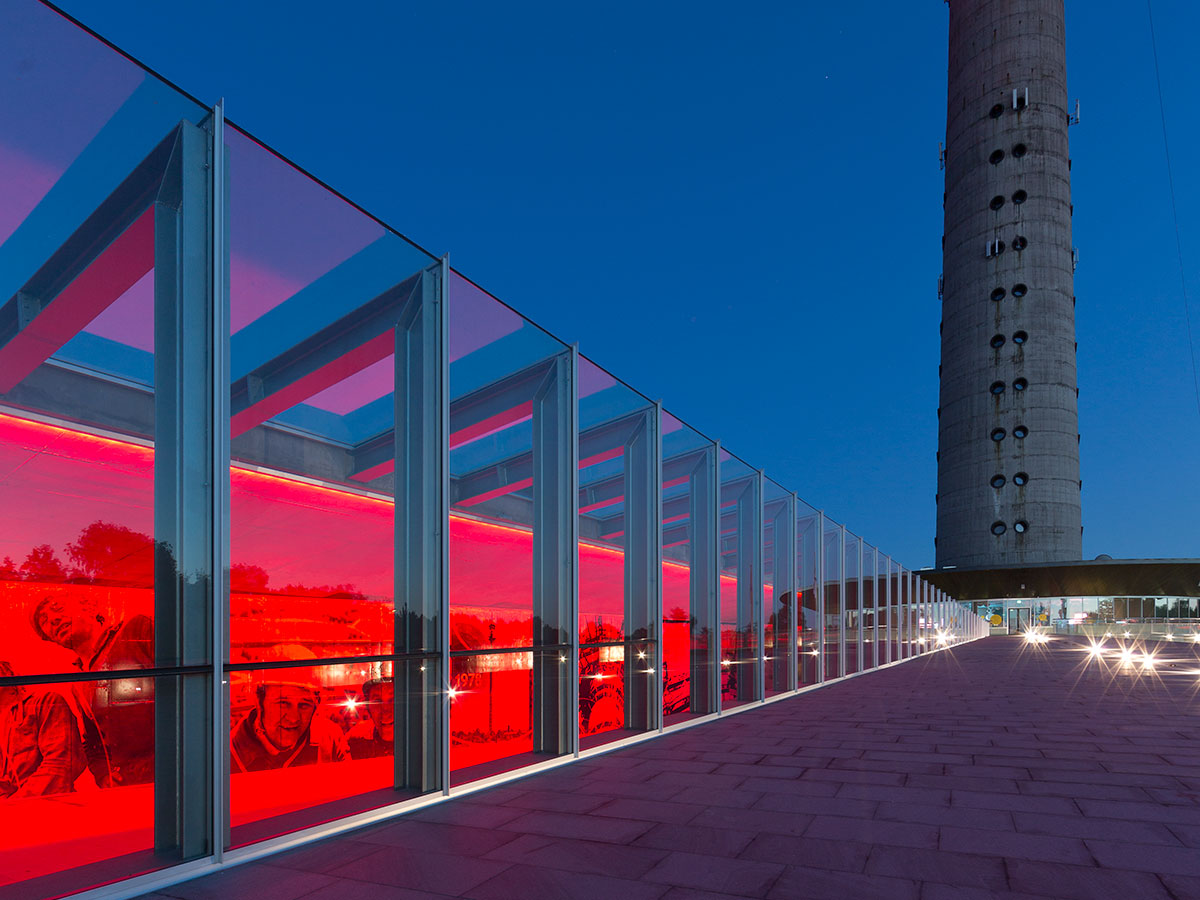 The Tallinn TV tower is the highest building in Estonia. It was constructed between 1975–1980 for the Moscow Olympic Games sailing regatta held in Tallinn as a part of its large building programme. A few years later, the TV Tower, became a symbol of Estonia's regained independence when local activists held it against Soviet soldiers.
In 2009, KOKO architects won the competition for the renovation of the tower. In the past, it had mostly been the restaurant floor of the tower that had been open to the public, but the new design set out to create a complex center of entertainment and leisure. One of the most significant changes was redesigning the entrance area. The old canopy and pools were replaced by a modern entrance with slanted surfaces.
In the interior of the tower, both the lower floors as well as the upper restaurant and exhibition floors were redesigned. The interior design is inspired by the techno-aesthetic of the 1960s and 1970s. The modern color and lighting solutions and the special designs for the furnishings create an air of being in a time capsule. When it comes to the restaurant floor, the design focuses on the comfort of the guests and allows them to fully enjoy the views. On the upper floor of the exhibition visitors can individually interact with robots with touch screens and motion sensors.
KOKO architects have converted the Tallinn TV Tower from a Soviet era techno-structure into a modern entertainment center. The restaurant, cinema and the exhibition spaces invite visitors to spend a stimulating and enjoyable day in the TV tower while taking in the spectacular views of Tallinn.