University of Tartu Narva College
Architects
Indrek Peil
Katrin Koov
Siiri Vallner
Kavakava Architects
Interior architect
Hannes Praks
Team Members
Heidi Urb, Maarja Tüür, Kaire Nõmm, Andro Mänd, Sten Mark Mändmaa, Helina Lass
Awards
2013: Estonian Culture Endowment Prize

2013: special prize for architectural concept at Estonian Concrete Society annual competition "Best concrete buildings 2012"

2013: Baltic Brick and Roof Award - winner of the public building category

2012: Best Culture Prize
Location
Raekoja plats 2, Narva, Estonia
Size
4680m2
Status
Completed in 2012
Client
The University of Tartu
Photos
Kaido Haagen
Typology
Tags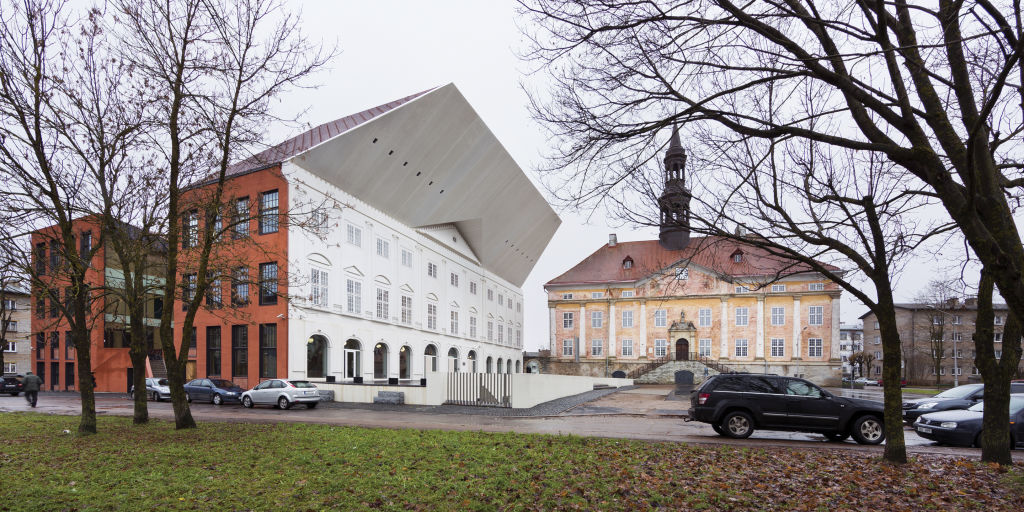 Narva is a town on the border with Russia. Its Baroque old town was mostly destroyed during the Second World War and the after war reconstruction effort. The new college building is situated on the territory of Narva's lost Old Town with the main facade facing the Town Hall Square. New learning facilities invoke both the loss of historic heritage and the city's rebuilding. The project reinvigorates the historical volume of the stock exchange building. 
The new building consists of two conceptual parts. First there is a cobbled square In front of the building, which marks the site of the former stock exchange building and creates the main entrance of the college. Secondly the architects created a mould of the old building's decorative facade on the bright concrete wall facing the square. The absent body of the old stock exchange has left an ephemeral trace onto the new building. In contrast the other three outer walls are made out of red brick. The old vaulted cellar under the square has been turned into an exhibition space.
The interior of the building is compact, its purpose is to create an academic yet seemingly informal environment. A spacious foyer was constructed as a monumental staircase to create a comfortable background for the students interacting outside their lectures. Four wings of the college surround an inner courtyard.